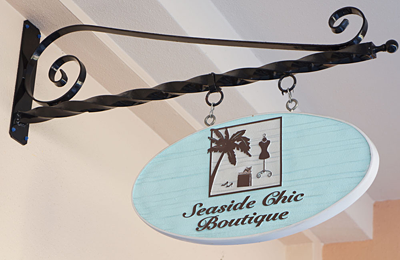 Newly opened, Seaside Chic Boutique, women's Fine Apparel and Accessory Store is Designer Janice Riordan's newest creation. Opening its doors in March 2012, the "Boutique", now joins her successful Home Décor store, "Seaside Chic" as part of the family.  Both stores are located in beautiful downtown Venice FL, within blocks of each other.
Janice has spent many years in design, but has always been drawn to fashion. Her comment," Fashion compliments the world we love and live in." comes from a long family history of design and fashion.  Janice's roots run deep. Early in the 1900's her grandfather, Charles (Carlos) La Vigna came to the USA, and opened a successful Apparel factory in NYC with his brother, designing fine apparel & coats…Her maternal grandfather, Charles LaMarche was a debonair French gentleman…."The family environment paved the way to a life, rich in art, design, style, music and even the culinary arts…"Love one, love them all," says Janice.
As you step into this unique "Boutique", subtle Voluspa candle scents permeate the air, and music uplifts your spirit!  Wonderful sales associates are happy to assist you with the latest styles, and help you select merchandise that makes you feel good…The "feel good factor" is one of Janice's credos from Seaside Chic Home…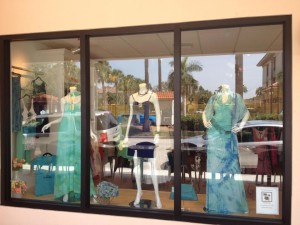 "The Boutique" introduces a whole new world of fashion and style to Venice Island…Hip and body friendly, elegant and comfortable!  It is a shop for the Generations! Mothers, Daughters & Granddaughters, will feel equally comfortable, and excited with the vast array of selections.  Seaside Chic Boutique has something for everyone!
With over 50% of its brands made in the USA…The styles are comfortable, feminine and sensible. We also offer Merchandise from Fair Trade Companies.  All of which offer their employees a fair wage, and safe working environments.  Janice feels, it's a global responsibility in the world we live in today.
As with Seaside Chic Home Décor, let Seaside Chic Boutique delight your senses with pops of color & Tres` chic styles greeting you all around when you walk through the door!
Si Bon!
Vive l'amour,
Janice
Xxx